The Body of Brooklyn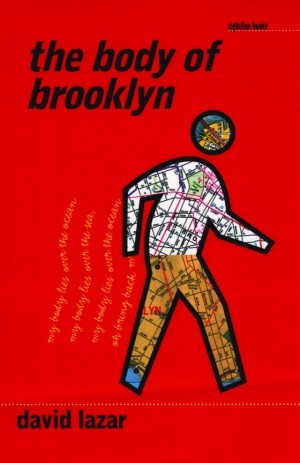 In The Body of Brooklyn David Lazar, an acclaimed essayist and prose stylist, offers a vividly detailed, hilarious, and touching recollection of his Brooklyn upbringing in the 1960s and 70s. His immigrant Jewish heritage and his bodily history—from the travails of childhood obesity to the sexual triumphs of post-adolescent leanness—form the core of this series of essays, all of which will win the interest and admiration of readers. More-over, this film-flavored confection is so infused with Lazar's fascinating turn of mind and memory, forever digressing and reflecting upon his digressions, without ever losing the thread of his story, that his essays will give the reader the distinctive pleasure of witnessing an extraordinary mental performance.
Lazar's essays vary in their focus as much as each meanders within itself: he recalls, for example, the "melon man" of his childhood, grottoes in Brooklyn, his extensive wardrobe, and his father's "pragmatically crafty alter ego." Constantly expanding the boundaries of his writing style, Lazar also includes a unique photo-essay that provides a series of brilliant verbal riffs on old family photographs.
The voice found within The Body of Brooklyn—unrepentantly literary, funny, digressive, and centered on Brooklyn—is quite unlike any other in contemporary literature. It will fascinate and intrigue all who listen.
"Lazar's prose renews in our time a kind of writing that is a treasure of literature wherever it is found: what is often called the personal essay. He is intent upon making private, particular experience enter into the language we share in a way that will convey the startling perspectives of memory and insight, and it is obvious that he means to produce writing that will be heard and remembered in itself. His talent for so demanding an ambition, and his devotion to it, is clear. And he's funny!"—W. S. Merwin
"David Lazar is a writer's writer's writer."—M. F. K. Fisher
"David Lazar has that sine qua non of the classical essayist: an interesting mind. I would gladly follow his quirky, bittersweet sensibility and language play on any subject in the universe. Lazar is a great Rememberer, with the ability to rub the Aladdin's Lamp of memory and call forth tender, fanciful, elaborate, and painful insights on the detritus of past daily life. He belongs on any short list of the best younger personal essayists in the country (a list that includes writers like Gerald Early and Bernard Cooper.)"—Phillip Lopate
"I've read these essays with much delight. As a fellow-essayist, David Lazar has my intense envy for his deceptively calm, wonderfully amused style. The writing is silky and full of little surprises. These essays form a book which should be read for its pleasures as well as studied diligently by all would-be writers."—Barbara Ehrenreich